Barnham Broom's enduring relationship with Frontier Agriculture
It is our greatest pleasure when a client returns to use the facilities here at Barnham Broom. We offer the best customer service so take it as the highest compliment that this has been recognised by returning custom. We're even more thrilled when we build up relationships with individuals and businesses when they return to us time and time again.
One such business is Frontier Agriculture, having used our facilities for their monthly Agronomy team meetings since 2016.
Frontier Agriculture is the UK's leading crop production and grain marketing business, recognised for its close customer relationships with farmers and grain consumers and its successful management of the arable supply chain. To make this possible, they host many events and conferences for their customers.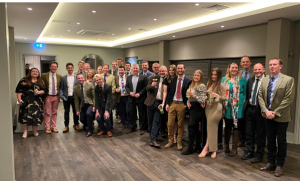 Frontier Agriculture has been using the facilities at Barnham Broom for seven years. Hosting monthly events at our facilities, it credits Barnham Broom for being the only place locally that can provide what's needed for its events.
Taking advantage of what's on offer at Barnham Broom, Frontier use our spacious events rooms because they can hold a large number of people, which is ideal for their meetings and events. Alongside the space, Barnham Broom offers to host events, having bedrooms on-site is a huge bonus for Frontier because it often hosts guests who travel long distances and need somewhere to stay for the night. Barnham Broom is the only place within the local vicinity that can provide what they require. The additional bonus of the Brasserie means that evening meals and breakfast can be catered for when it comes to overnight conferences.
Alisha Smith, Regional Admin Support Coordinator for Frontier Agriculture explains, "The staff at Barnham Broom are very attentive and ensure you always have what you need, nothing is too much trouble. They are so friendly and welcoming – personally, Harry, Sarah, and Pete have been exceptional with me. Companies new to Barnham Broom can expect a warm welcome, friendly staff, and good facilities. The food is also delicious, and they will go above and beyond to ensure everything is just right, especially if you have certain intolerances or special requirements that need to be catered for."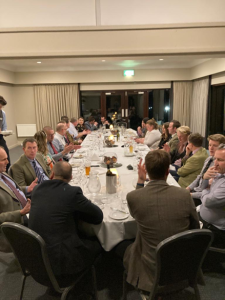 Barnham Broom can cater for overnight conferences, something which Frontier Agriculture takes full advantage of, with our 46 bedrooms and evening catering in our Brasserie restaurant.
How Barnham Broom can cater for your corporate events
Our setting here at Barnham Broom offers exceptional service when it comes to hosting your events and meetings. We have incredible spaces and bespoke packages to help you host your corporate events to the highest standard, inclusive of all your needs.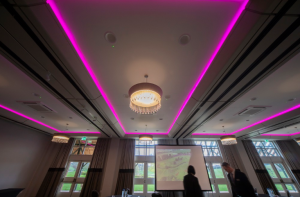 We have many fantastic purpose-built spaces at Barnham Broom to facilitate any kind of event
The benefits of using Barnham Broom are:
Bespoke packages for any type of event, including our fully inclusive Signature Meetings Package.
Choose from our range of purpose-built facilities, including conferencing and meeting rooms, and banqueting suites to create your perfect event, be it a board meeting, full-scale conference, or product launch.
We offer a high-class service; nothing is too much trouble.
Our dedicated Events and Conference Team will work closely with you to plan your event.
Set in a superb location we are within easy access to the A47 whilst sitting in peaceful, idyllic countryside with lots of free, on-site parking.
Technology and equipment are available to include in our suites, which are fully equipped with LCD projectors when required, as well as PA systems, screens, flip charts, and free Wi-Fi.
On-site catering facilities. You'll never go hungry or thirsty with our award-winning chefs, catering packages, Sports Bar, Brasserie Lounge, and Brasserie – perfect for a light bite, evening meal, or breakfast at overnight conferences.
Our 46 bedrooms mean we can facilitate your delegates or staff who travel long distances for your event and need to stay on-site. Rooms are all ensuite with a desk, tea/coffee-making facilities, and a large TV.
Fabulous facilities, including health and fitness facilities – gym, pool, squash, tennis, and fitness classes, two 18-hole golf courses, a 3-hole academy/practice course, and a luxury spa.
Away days and twenty-four-hour packages at Barnham Broom
When it all gets a bit too much, escape the hustle and bustle of office life in the tranquillity of Barnham Broom. Our golf facilities, dining experiences are evening entertainment are perfect for team building and corporate fun days.
If you're wanting to extend your event, our twenty-four-hour packages include exceptional dining in the Brasserie and an overnight stay with continental and cooked breakfast.
For more information on how Barnham Broom can help you host your event, contact our friendly events and corporate team at events@barnham-broom.co.uk or call 01603 759393.